Invisalign in Etobicoke

At West Mall Dental Group in Etobicoke, our dentists are proud to offer Invisalign® and ClearCorrect™ clear aligners as a low-profile alternative to traditional metal braces.
Achieve a Straighter Smile Without Braces
Clear aligners by Invisalign and ClearCorrect can help straighten your smile without metal braces. Made of a smooth, transparent plastic, they are a comfortable, removable and discreet treatment option.
Invisalign in Etobicoke: Our Process
Your Invisalign or ClearCorrect treatment will be made up of a series of aligners that you change bi-weekly. Each set of aligners in your series will make tiny adjustments to your teeth, picking up where the previous set left off, until your teeth are in the desired positions.
The duration of your treatment depends primarily on the extent of your misalignment. The more misaligned your teeth are, the more sets of aligners you will need to resolve the issues, and the longer treatment will take.
During your treatment, you will be able to remove the aligners to eat, drink and clean your teeth. This means minimal changes to your daily routines.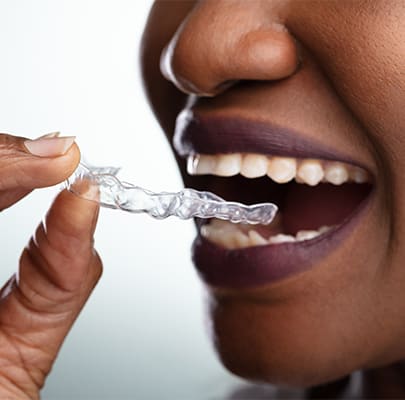 Treatment Costs
The cost of Invisalign or ClearCorrect treatment varies depending on each patients' needs. Factors like your specific jaw shape and the extent of your misalignment may affect the number of aligners you'll require and the overall associated costs.
The only way to know for sure what the cost will be is to visit your dentist for an assessment.
Candidates for Clear Aligners
Invisalign and ClearCorrect aligners can correct a variety of misalignment problems such as teeth crowding, wide spacing, and bite issues. 
Clear aligners are a popular treatment option for both adults and teenagers because of its inconspicuous look and flexibility.  To find out if you are a candidate for treatment, visit your dentist for an assessment.