Teeth Whitening in Etobicoke
Our Etobicoke dentists provide in-office teeth whitening (bleaching) and at-home teeth whitening trays to help our patients achieve brighter smiles.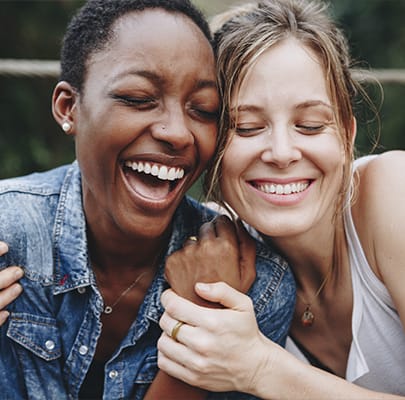 Get the brighter, whiter smile you've been dreaming of.
As we get older, the colour of our teeth can naturally begin to darken. This can be caused by a number of different factors, from dietary choices to taking certain medications.
For many people, discoloured teeth can be a point of insecurity. They may feel less confident, or even embarrassed when they smile.
If you've been feeling unhappy with the colour of your teeth, teeth whitening may be the answer.
Teeth Whitening in Etobicoke
At West Mall Dental Group, we provide at-home teeth whitening kits and in-office bleaching services to help our patients achieve whiter, brighter teeth.
Teeth whitening helps to remove surface stains and lighten the colour of the natural tooth enamel, resulting in teeth that appear brighter and healthier.
At-Home Whitening Kits
Our at-home teeth whitening kits include custom-fitted trays filled with professional-grade, peroxide-based gel. The trays will be made at our office based on a mold of your teeth, and your dentist will provide you with instructions on how to use them at home.
In-Office Bleaching Services
Teeth whitening treatment done by your dentist at our office is the quickest teeth whitening option. The bleaching solution is stronger than at-home kits, and your dentist will use a dental laser to speed and intensify the whitening process.