Dental Veneers in Etobicoke
Veneers at our Etobicoke clinic are dental restorations that allow you to significantly alter the appearance of your smile. 
Dental veneers are a cosmetic solution for damaged or discoloured teeth.
Veneers are thin slivers of porcelain that your dentist can adhere to the surface of your teeth to alter their colour, size, and shape.
Porcelain is very similar in strength and appearance to dental enamel, making it a highly effective cosmetic dental restoration.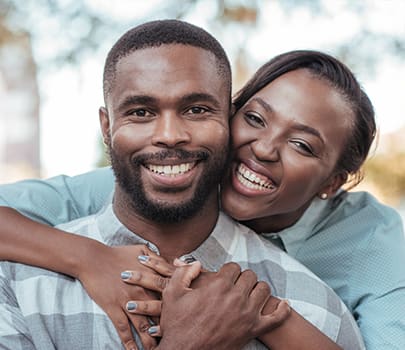 How Veneers Work
A dental veneer can be a solution to a variety of cosmetic dental issues. Its colour can be selected to match your natural teeth, or to make your teeth look whiter. 
They can mask tooth discolouration, give you a whiter-looking smile, and adjust the shape and size of your teeth to reduce the appearance of misalignments and gaps.
Dental Veneers in Etobicoke: The Benefits
Porcelain veneers have a natural tooth appearance, and the porcelain material is well tolerated by gum tissue. And unlike natural tooth enamel, porcelain is stain resistant.
Veneers are generally considered to be a minimally invasive cosmetic treatment option because they usually don't require extensive tooth shaping like dental crowns.